Email Marketing
Email marketing is one of the best ways to reach your customers. It provides them with a light touch about your services and mission. Consider graphics, links, analytics, polls, ecommerce, multimedia capabilities and no attachments necessary, using email marketing is one of the best digital investments you can make!
According to AOL Small Business, your customers want to hear from you more. Are the communications you are sending to your audience up to par? Are you happy with the appearance and results? Can you even track the results? With email marketing, you are your own digital publishing house.
I have been a Constant Contact All Star for three years running (2009, 2010, & 2011). Take a look at my archive for examples. Let me help turn you into a star!
Email marketing campaign design and management
Constant Contact
Vertical Response & more
I recommend: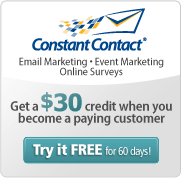 Get Constant Contact today
and tell them I sent you!